Umeå, Sweden
POPULATION: 130 000
Umeå is a fast-growing city in Northern Sweden boasting a long tradition of ambitious sustainability policies. Located 600 km north of Stockholm, it has a subarctic climate, alternating short and fairly warm summers with lengthy and freezing winters.
The GoGreenRoutes vision of creating high-quality, multi-functional, accessible and inclusive public green spaces goes hand in hand with many of the city's local sustainability goals, including its commitment to gender equality.
'Green lungs' to tackle air pollution and encourage
active travel all year round
Umeå's green route, known as Bölevägen, is situated on the south bank of the Ume river. Covering a distance of 1.5 km, the street is lined with houses, schools, pre-schools, elderly care homes, companies and businesses. Despite being part of the city, Bölevägen resembles a rural street in its current form.
Part of the challenge in making the route more attractive derives from the combination of traffic-related pollution and Umeå's cold climate, which keeps emissions from motor vehicles at the street level, leading to poor air quality and adverse health effects. The issue is most severe in the city centre, where two heavily trafficked roads intersect with densely populated areas. The Bölevägen route is connected to one of these roads.
High amounts of particles are typically measured in the city during early autumn or late spring, when studded vehicle tires tear up the exposed road surface, exacerbating the city's air quality problems.
Recently, a new bridge was built over the river for pedestrians and cyclists and Bölevägen became part of a recreational walking trail. However, Bölevägen is still not a pleasant walkway, as drivers pass by fast and the street partly lacks sidewalks.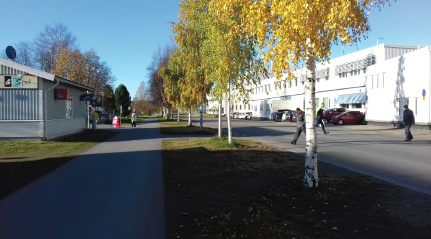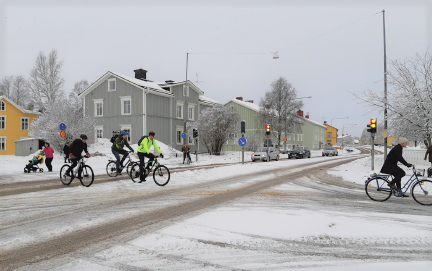 Another great challenge in Umeå are the long and dark winters. During this time, residents tend to spend more time inside and choose to drive instead of walking and cycling. This means that public spaces become more sparsely populated, which can contribute to them being perceived as unsafe.
GoGreenRoutes serves as a platform for Umeå to explore how to turn Bölevägen into a public space that encourages active travel, where residents feel safe at all times and where street signage clearly indicates that walking and biking are prioritized transport modes. The municipality is seeking physical and functional integration of green spaces with different modes of sustainable transport and implement strategies to make the area more pleasant for visitors and residents.
This will contribute towards the municipality's goal to increase the proportion of journeys by public transport, bicycle or on foot.
Workshops have taken place with a local preschool where children identified in pictures how they want the Bölevägen to look. Since many children wanted a rainbow bridge, for example, city stakeholders are brainstorming ways to integrate such ideas, for example with rainbow reflectors to add more color and make the area more pedestrian friendly.
Umeå plans to continue its brainstorming sessions with local schools and stakholders and relay emerging ideas for mobility and greening ideas to city hall.
Gender-sensitive planning
A model town for gender equality, Umeå will leverage its long experience in gender-sensitive urban planning to investigate how men, women and other social and cultural groups are using and beneffiting from ecosystem services near Bölevägen.
The goal is to close gender, social and cultural gaps in the use of green spaces by introducing target groups to new experiences in these areas and making them safer.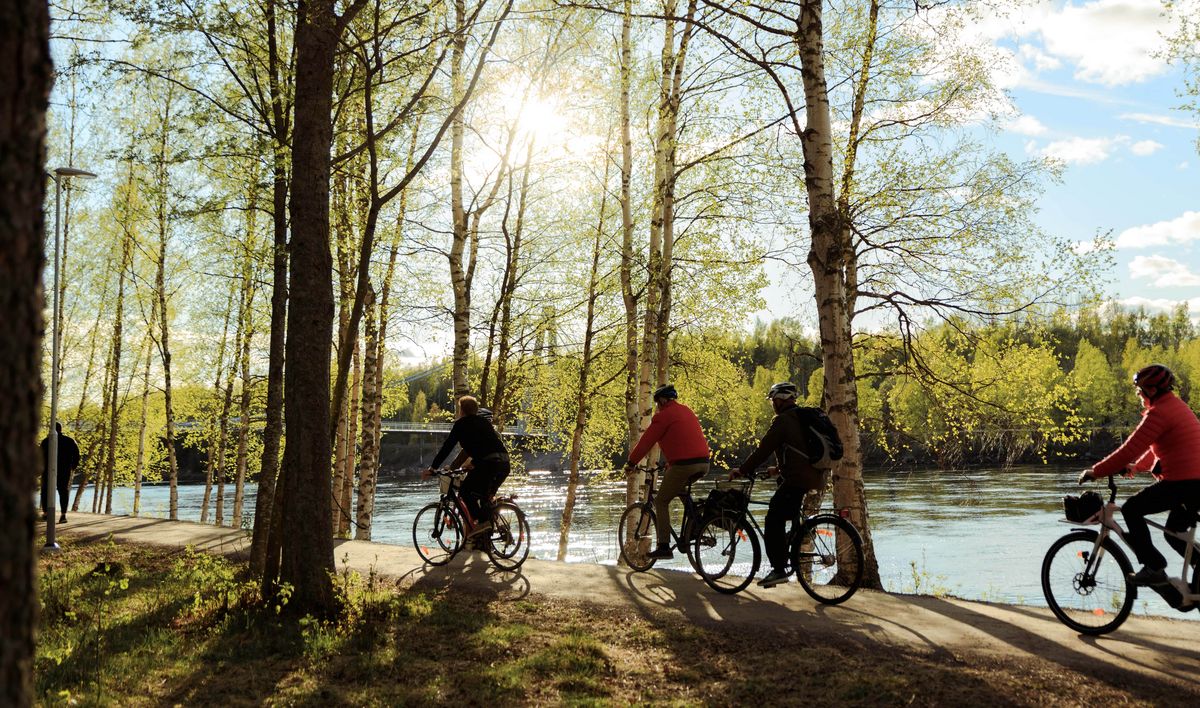 One of Umeå's sustainability targets is to increase the proportion of journeys by public transport, bicycle or on foot to at least 65% of all travel (for people living in urban areas). Measurements show that men and women use modes of transport differently, with men travelling by car to a greater extent than women. This is one of the challenges the city wants to address within GoGreenRoutes.